L'Estartit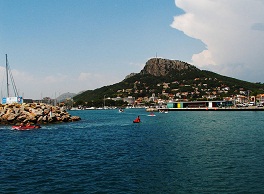 This village marks the end of the long curve of Platja de Pals, at the foot of the Punta de la Barra. The beach opens out in a wide sweep from the heavy mass of the Cap de Begur, with its Punta de Sa Sal, Punta de Plom and Punta de la Creu, contrasting with the spectacularly dramatic scenery of other parts of the Costa Brava. The rivers Ter and Dare both flow out through the Platja de Pals, the first being of considerable size and creating thickly- wooded streams with an abundance of water-fowl and fish.
If you want to go to the Platja de Pals, from Begur, you must turn back inland as far as the Palafrugell-Torroella de Montgri road. Not far from the junction and in the middle of the rice fields which have made it famous, is the village of Pals. There are ancient walls and other vestiges of the old ages which make this village worth visiting.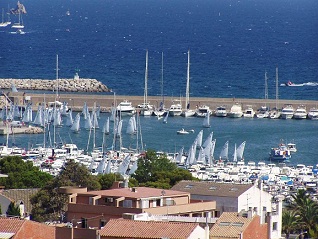 Not far away is the little town of Peratallada which is interesting both artistically and architecturally. From Pals, a road leads directly to the beach. The water here is shallow, and it is conveniently sheltered to the north by the seaward end of the Torroella de Montgri mountain range, which finishes with the Punta Guixeres and Punta de la Barra. In the little village of Torroella, archaeologists have found cave-sepulchers of the Neolithic epoch.
Sheltering there, at the foot of these mountains facing east to receive the midday sun, are the rows of closely-packed houses and hotels which constitute the village of I'Estartit. It is a settlement which originated as a refuge for fishermen who cultivated the land, the traditional occupations of the people of the Costa Brava.
If you arrive in l'Estartit, a short sea trip to the Medes Islands is definitely a must. The islands consist of a line of four steep, rocky islets: Meda Gran, the only accessible one, Els Tascons, Meda Petita and Cavall Bernat. What used to be a refuge for pirates, the Medes played a very important part in the history of Spain, until they were turned into a defensive fortress, as can be seen from the ruins on top of Meda Gran. Some of the stories about the Medes may seem pure fantasy, but there will often be some truth in them. For centuries, all this part of the coast was infested by pirates who used the Medes as a base from which to prey on the shipping of the l'Empordo coast. These small islands have also witnessed famous shipwrecks.
Costa Brava Resorts
Search CostaBravaCheapHotels.com